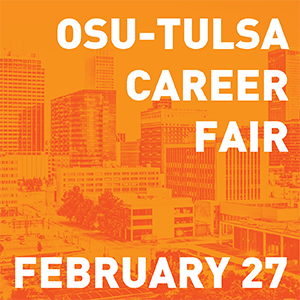 2/27 - OSU-Tulsa Spring Career Fair
2 pm - 4 pm @ OSU-Tulsa, Main Hall Commons
Come prepared with your resume and meet companies that want to hire you for full-time, part-time, and intern positions. Companies are looking for all majors and degrees. Attend this fair and you will have the opportunity to meet with potential employers and learn about employment opportunities and internships they offer.
BOB Reservation
: Call 918-594-8332 or stop by the Information Center in the OSU-Tulsa North Hall lobby to make a BOB reservation. Tell the attendant that you are taking the bus for BOB for Jobs to attend the OSU-Tulsa Career Fair.
Registered Companies
AAON Inc.
Amazon
AWC
Bama Companies
Berendsen Fluid Power
Broken Arrow Public Schools
City of Owasso
City Year
Clayton Homes
Cox Communications
Cox Media Group
Cust-O-Fab, Inc.
DXC Technology
Enovation Controls
Epic Charter Schools
Family & Children's Services
Ford Audio-Video Systems, LLC.
Grand Lake Mental Health Center
Grand Prairie Police Department
Grant Thornton, LLP
HireRight
Imperial Companies
John Christner Trucking, Inc.
Melton Truck Lines, Inc.
New York Life Insurance Company
Northeastern State University
Northwestern Mutual Financial Network
Oklahoma Department of Human Services
Oral Roberts University
OSU Graduate College
OSU Human Resources
OSU Tulsa Graduate College
OSU Watson Graduate School of Management
Parker Plastics, INC.
Sherwin-Williams Company
Simmons Foods, Inc.
The University of Tulsa College of Law
TMA Systems, LLC
Tulsa Community College
Tulsa Community Foundation
Tulsa County
Tulsa County Sheriff's Office
Tulsa Federal Credit Union
Tulsa Health Department
Tulsa Pier Drilling, LLC
Tulsa Police Department
United Rentals
University of Arkansas Global Campus
University of Tulsa Graduate School
Vesta Realty
Webco Industries, Inc.
Youth Villages