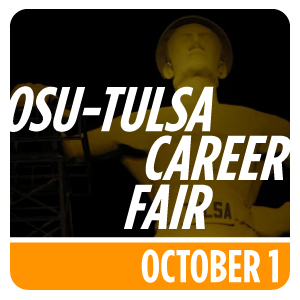 10/1 - OSU-Tulsa Career Fair
2 pm - 4 pm @ OSU-Tulsa, Main Hall Commons
Come prepared with your resume and meet companies that want to hire you for full-time, part-time, and intern positions. Companies are looking for all majors and degrees. Attend this fair and you will have the opportunity to meet with potential employers and learn about employment opportunities and internships they offer.
BOB Reservation
: Call 918-594-8332 or stop by the Information Center in the OSU-Tulsa North Hall lobby to make a BOB reservation. Tell the attendant that you are taking the bus for BOB for Jobs to attend the OSU-Tulsa Career Fair.
Registered Companies
AFLAC
Braum's Ice Cream and Dairy Stores
Brookdale
Buckle
City of Broken Arrow
City Year
Colonial Life
Cox Media Group
Department of Commerce (DOC)
Encadria Staffing Solutions
Enterprise Holdings
Family & Children's Services
Ford Audio-Video Systems, LLC.
Griffin Communications, L.L.C.
Hedges Speech & Hearing
HollyFrontier Corporation
IMAX Worldwide Imports
James R Childers Architect Inc
Mathis Brothers Furniture
Melton Truck Lines, Inc.
Missouri State Highway Patrol
New York Life Insurance Company
Northeastern State University
Oklahoma Department of Human Services
Oklahoma Department of Mental Health and Substance Abuse Services
Oral Roberts University
OSU Career Services - HireOSUgrads.com
OSU Human Resources
OSU Masters of International Agriculture
OSU Watson Graduate School of Management
RNDC - Oklahoma, Republic National Distributing Company
Rockgate Financial Partners-Adaptation Advisors
Ryan Lawn and Tree
Sherwin-Williams Company
The Office of the Comptroller of the Currency
The University of Texas Arlington
The University of Tulsa College of Law
TMA Systems, LLC
Tulsa Community Foundation
Tulsa County
Tulsa County Sheriff's Office
Tulsa Police Department
UNIQLO USA
University of Arkansas Global Campus
University of Tulsa
Verizon Communications, Inc.
Webco Industries, Inc.
Youth Villages
Zachry Group