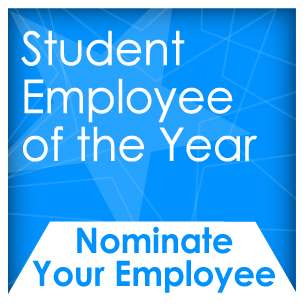 Nomination Form -
Closed
Take a few moments to nominate your student employees. Deadline for nomination:
January 26, 2018
Description:
Have an amazing Student Employee? Let us help you recognize and reward them.
Each spring, as part of National Student Employment Week, Oklahoma State University chooses a Student Employee of the Year. This student is selected as someone who best embodies the contributions and achievements of students who work while attending college.
The contest is sponsored by OSU Career Services in conjunction with the National Student Employment Association's (NSEA) National Student Employee of the Year contest. The OSU Student Employee of the Year will compete at the regional level and if successful will eventually compete nationally.
Eligible Students
Degree-seeking part-time/full-time students enrolled at Oklahoma State University who are employed in student-level positions on or off campus. Nominees may be undergraduate students or graduate students who are performing student employee jobs (not Graduate Assistants, or Teaching Assistants).
Eligible Terms of Employment
Students must have been employed for a minimum of 3 months at 20 hrs/week or 6 months at less than 20 hrs/week between July 1, 2017 and June 30, 2018 (anticipated). This is equivalent to 240 working hours during the year period.
Questions
Roberta Douglas, 405-744-3331,
roberta.douglas@okstate.edu
Nomination Form -
Closed
Take a few moments to nominate your student employees. Deadline for nomination:
January 26, 2018
Hosted by:
OSU Career Services