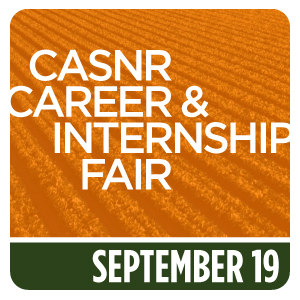 9/19 - CASNR Career and Internship Fair
12:30 pm - 4:30 pm @ Gallagher-Iba Arena
The College of Agricultural Sciences and Natural Resources coordinates the CASNR Career and Internship Fair each fall semester as a networking and connection opportunity for both students and employers of the diverse respective industries. This career event features employers from throughout the globe who are interested in students with backgrounds in the fundamental sciences, such as chemistry and biology, as well as applied sciences, including food science, horticulture, fisheries and wildlife, animal science, biosystems engineering, agronomy, and environmental science - just to name a few. Employers seeking students with skills in agribusiness, communications, agricultural education, and leadership also attend this event. The career fair is open to all OSU students and alumni interested in exploring career options, meeting industry professionals and making connections for internships and full-time jobs.
Registered Companies
AgCareers.com
AgReliant Genetics
Agri Beef Co.
AMVC
Andy's Sprinkler Drainage & Lighting, Inc.
Arnett New Holland, Inc.
Attebury Grain, LLC
Baptist Health College Little Rock
Big V Feeds, Inc
Blue Sky Crop Consulting & Tri-County Seeds
BWI Companies Inc.
Cactus Feeders
Cal-Maine Foods
Capital Farm Credit
Cargill, Inc.
CGB Enterprises, Inc.
Complete Landsculpture, LP
Corteva Agriscience
Crop Quest
Cytovance Biologics
Dillingham HR
Ditch Witch
Eli Lilly and Company
Equity Exchange
Farm Credit
Farmers Grain Company
Farmers Insurance and Financial Services - STW
FEMA
First National Bank of Syracuse
Five Rivers Cattle Company
FLM Harvest
Gavilon
Green Plains Inc
GreenShade Trees
Hajoca Corporation
Harps Food Stores
Helena Agri-Enterprises, LLC
Hormel Foods Corporation
International Paper
JBS USA
John Deere
Kansas Highway Patrol
Koch Industries, Inc.
Kubota Tractor Corporation
Land O'Lakes, Inc.
Landcare
Livestock Nutrition Center
Merck Animal Health
MHC Kenworth
MKC
Murphy Family Ventures LLC
Noble Research Institute
Northwest Crane Service
Northwestern Mutual Financial Network
Nutrition Plus
Oklahoma Agricultural Cooperative Council (OACC)
Oklahoma Agricultural Education Teachers Association
Oklahoma City University School of Law
Oklahoma Conservation Commission
Oklahoma Department of Wildlife Conservation
Oklahoma Farm Bureau Federation
Oklahoma Forestry Services
OSU CASNR College of Agricultural Sciences and Natural Resources
OSU CVHS Center for Veterinary Health Sciences
OSU Environmental Science Graduate Program
OSU Human Resources
OSU Masters of International Agriculture
OSU Oklahoma Cooperative Extension Service
OSU Watson Graduate School of Management
PepsiCo
Rabo AgriFinance
Ross University School Veterinary Medicine
Ryan Lawn and Tree
Scapes, Inc.
Seaboard Foods
Servi-Tech, Inc.
Sesaco Corporation
Simmons Foods, Inc.
Smithfield Foods
Southern Pine Inspection Bureau
State of Oklahoma Commissioners of the Land Office
Syngenta
Texas Christian University Ranch Management Program
The Maschhoffs Inc.
The University of Tulsa College of Law
Trans Ova Genetics
Tyson Foods, Inc.
U.S. Department of Agriculture (USDA) - National Agricultural Statistics Service (NASS)
U.S. Department of Agriculture (USDA) - Natural Resources Conservation Service (NRCS)
Welch State Bank
Weyerhaeuser Company