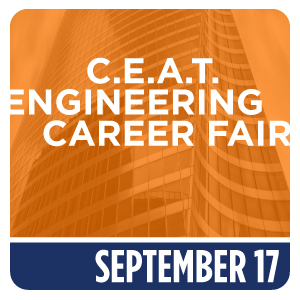 Engineering, Architecture & Technology Career Fair
- September 17, 2019
Hosted By College of Engineering, Architecture & Technology Student Council
Registration
- Coming Soon in April
Time/Location:
9am - 3:30pm (Check In: 7:30am - 8:30am)
Gallagher-Iba Arena
Click here for directions & Lodging
Description:
The CEAT Career Fair is the largest career fair at Oklahoma State University and is consistently recognized as among the largest student run career fairs in the nation. The CEAT Career Fair is open to all majors at OSU with the majority of attendees coming from engineering and technology majors. Approximately 2,000 students attend every fall, seeking full-time jobs, internships, and co-ops in the areas of engineering and technology.
Questions?
Contact Rachel Bebb or Killian Kane at
ceat_careerfair@okstate.edu
or 405-744-9104