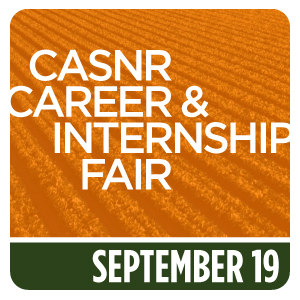 CASNR Career and Internship Fair
September 19, 2019
Hosted By College of Agricultural Sciences & Natural Resources Career Services
Registration
- Coming Soon in April
Registration and coordination of this career fair is handled through the College of Agricultural Sciences and Natural Resources (CASNR) Career Services.
Time/Location:
12:30pm - 4:30pm (Check In: 8:30am - 11:30am)
Gallagher-Iba Arena
Click here for directions & Lodging
Description:
This event is a premier networking and connection opportunity for both students and employers associated with agriculture, food, natural resources, and environmental disciplines. Attending students have strong backgrounds in the fundamental sciences such as chemistry and biology, and have also learned to apply these principles in areas such as food science, agronomy, turfgrass management, horticulture, environmental sciences, animal science, biosystems engineering and rangeland ecology - just to name a few! Organizations also have the opportunity to meet students with impressive backgrounds in agribusiness, communications, agricultural education, and leadership. In addition to CASNR students and alumni, others from allied disciplines and areas of study throughout the OSU campus are also encouraged to attend, explore career options, meet industry professionals and make connections for internships, full-time jobs and continuing education opportunities. More than 1100 students participate in this outstanding career connection event!
For questions about the CASNR Career and Internship Fair, contact CASNR Career Services:
casnr@okstate.edu
or 405-744-9464