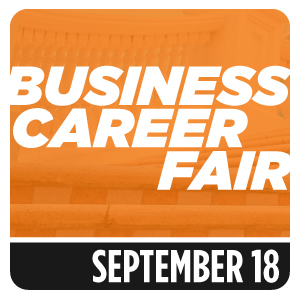 Business Career Fair
- September 18, 2019
Hosted By OSU Career Services
Time/Location:
12:30pm - 4:30pm (Check In: 9am - 11am)
Gallagher-Iba Arena
Click here for directions & Lodging
Description:
Marketed as a career fair for all majors at OSU, more than 2,100 students and alumni attend this event each fall. Representing a wide variety of majors and disciplines, attendees seek fulltime opportunities, as well as internships and co-ops related to all areas of business.
*To ensure your company's name is listed on the map in the special Career Fair edition of the O'Colly newspaper, please register no later than 5pm on Monday, September 9, 2019.
Registration
1. Fees include: Employer hospitality, parking, continental breakfast, lunch, refreshments, relaxation room, door prizes, advertising/marketing, and booth space (space includes 8ft table, black table cloth, and three chairs).

2. Payment instructions will be emailed following receipt of your registration.
Early Registration
Ends 8/23/19
Cost per Table
Standard Registration
Begins 8/24/19
Cost per Table

*

Additional Reps
(Over 3 per Table)
Cost per Reps
FIRST Time Attendee

Note: Available to companies who have never attended a career fair at OSU, OR who have not attended a career fair since December 1, 2015. (Including Business, CEAT, CASNR and OSU Career Fairs)

$350
$400
$75
Standard Registration


$650
$700
$75
Graduate School

Note: Graduate school will be located downstairs in the east lobby.

$350
$400
$75
Government Agencies/Charitable Non-Profit 501(c)(3)

For non-profit entities that fall under the category of Government Agency or a Charitable Non-Profit 501(c)(3).
Note: This rate is subject to space availability on the concourse level and table space may be located downstairs in the east lobby.

$350
$400
$75
OSU Department Standby Status

OSU Departments that would like to attend can be placed on a standby list for no fee. Spaces will be distributed to standby departments in the order registrations were received only if space is available. Table space will be located downstairs in the east lobby. This registration does not include lunch for representatives. Standbys will find out no later than noon on Friday, September 13, 2019 if they will have a table.

$0
$0
N/A
*
Must purchase an additional table if there will be over 5 representatives for each table.
Career Fair Sponsorship Opportunity - $1,000
Career Fair sponsors will be recognized in pre-fair materials, ads, and publications as well as in multiple locations at the career fair.
Policies:
2019 Business Career Fair Policy
Questions? Contact Alicia Low:
alicia.low@okstate.edu
or 405-744-9644